chamber music projects
Trio Tomo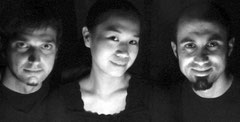 Trio Tomo focuses its repertoire on the first instrumental baroque music, strongly influenced by the new vocal style of recited chant. The desire of this new music for portraying the different human emotions entails an exploration of the expressive resources of each instrument.
The concert program shows different standard kind of pieces of the beginning of the seicento: The violin sonatas long expressive contrast and the technical limits of the instrument. A second kind of piece is the diminutions on already existing music, either popular melodies or compositions by other composers. The third kind of piece shown in our concerts is the variations written above ground basses that repeat from the beginning to the end.
Rie Kimura - violin
Robert Smith - viola da gamba
Ferran Pisà - theorbo

Eulàlia Fantova & Ferran Pisà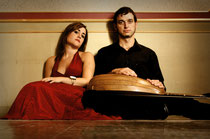 Eulalia Fantova & Ferran Pisà play music a duo since they were schoolmates at the Escola Superior de Música de Catalunya ESMUC. That collaboration in the school rooms has continued, outside the school, as a professional ensemble specialized in Italian music of the seventeenth century.
The concerts of this duo show the music of the second generation of monodists of the seicento. This second generation of composers doesn't only aim to trascribe the spoken words into music -like Peri and Cavallieri did at their time- and structure their works with an alternation of sections of two kinds: the declaimed sections -rather narrative- and the melodic sections -more meditative than the earlyer kind-. This operatic conception of this music trascended in sacred music making it become as sensual as never before.
Eulàlia Fantova - voice
Ferran Pisà - theorbo